NOTE: These docs are under active development pending final Arctic stuff 👷‍♀️👷
---
The leaderboard tracks the performance of Gladiators participating in the Arctic Games.
It shows users ranked by profit & loss or P&L, expressed as percentage.
The leaderboard gives credit to where credit is due - to Float's top Arctic Gladiators.
You can click through to profiles to see their transaction history or keep an eye on their transactions. 🐳
Certain fren communities have their own leaderboards in Float Arctic. You can see the average P&L for these communities from the main leaderboard, and click through to see Gladiators from only those communities.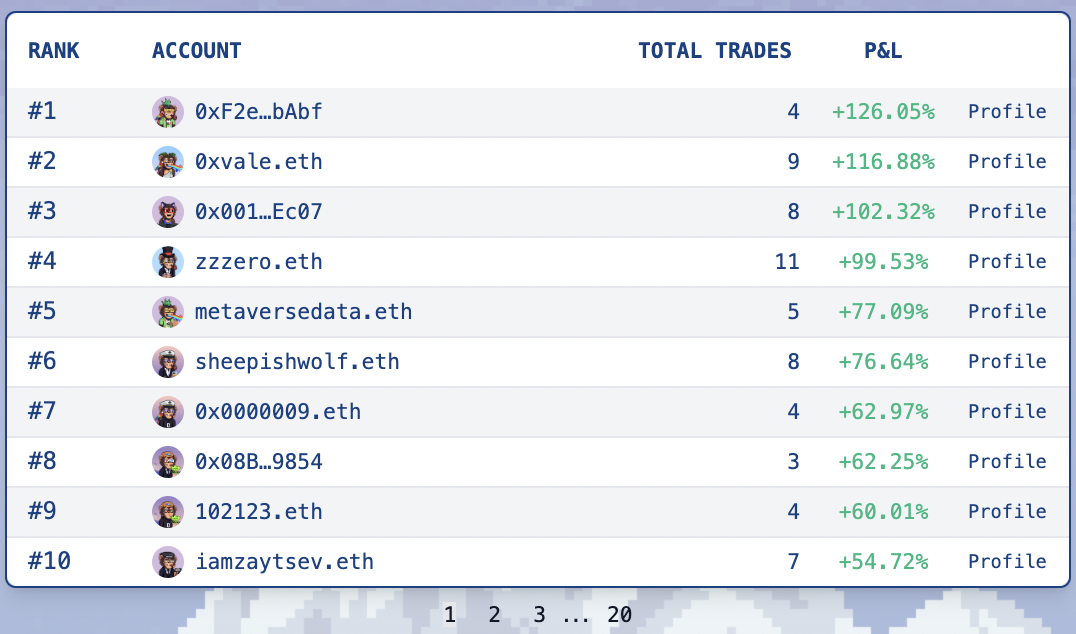 If you own an A.P. Morgan NFT from Float's invite-ony NFT Collection, the elite A.P. Morgan Sailing Club (APSMC), your A.P. Morgan becomes your PFP on the Leaderboard.
For more info on the APMSC, see the blog article here.
If you have a registered / subscribed to a ENS domain, your ENS name (e.g stonkbronker.eth) will show up on the leaderboard instead of your wallet address.