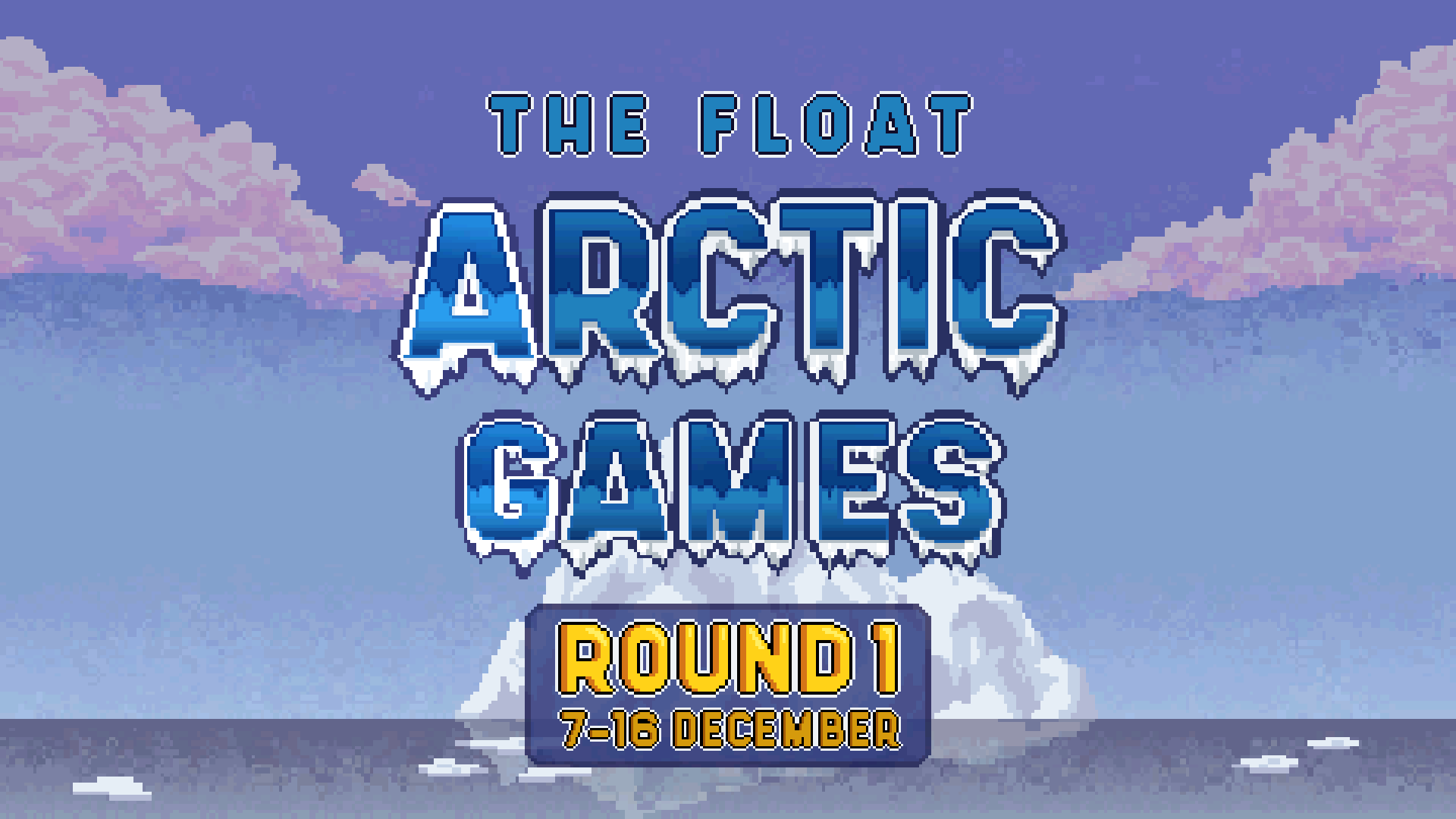 Pledge yourself to the Arctic Games
The future of DeFi is here. Let the Arctic Games commence.
Float Arctic lets you mint leveraged long or short tokens with no liquidations, fully on-chain. And it's about to go live.
To celebrate, we're launching a testnet trading competition with multiple rounds, called the Arctic Games.
Round 1 will be closed, to only 100 users. If selected you'll be the first to test the future of DeFi and compete for prizes and eternal glory.
The games begin on 7 December. Pledge yourself to enter.
The rules
The winners of each round of the Arctic Games will be judged on PnL. The best traders win.
In the first round 100 Arctic Gladiators will be selected to trade on Polygon's Mumbai Testnet.
Round 1 runs from 7 December at 14:00 UTC to 16 December at 14:00 UTC.
If selected, you will be airdropped testnet MATIC and 100,000 Arctic Testnet Dollars (ATD). ATD is non-transferable and can only be used to interact with the Arctic Games contracts. ATD has no monetary value.
You can use any of the markets in the Arctic Games deployment and any trading strategy you choose. Monitor your position on the competition leaderboard.
At the end of the round your open positions and the ATD in your wallet will be used to calculate your final PnL.
Qualifying
To participate in round 1 you need to pledge. Pledges are open from 28 November at 11:00 UTC to 6 December at 11:00 UTC.
The application process requires that you initiate an on-chain transaction, committing to trade in the Arctic Games. Then you must join the Arctic Games Guild and complete a Sybil resistance process by connecting the wallet you intend to trade with, and your Twitter and Discord accounts.
To make sure you're a real trader we ask that you use a Discord account older than three months, and a Twitter with more than 25 followers.
Addresses with a history of real DeFi activity will be more likely to be selected. This includes having a trading history in the Float Alpha, or proof of trading accomplishments like a DegenScore Beacon.
To ensure that you benefit from this, make sure you connect from a wallet that has some proof of trading history associated with it.
Once you complete this process you will automatically receive the Arctic Explooorer role in the Float Discord. We'll use this role to notify you if you are selected for round 1 or any subsequent rounds. Make sure you keep this role and enable role notifications for the Float server.
Once applications close we will extract the list of applicant wallets from the Float Guild, conduct further Sybil resistance and select 100 participants. If you don't make the cut or round 1, don't worry. So long as you keep the Arctic Explooorer role you'll automatically be eligible for the draw for later rounds of the games.
If you make the allowlist, Guild will automatically grant you the Arctic Gladiator role, giving you access to the private Arctic Games channels in the Float Discord.
Make sure you enable role notifications in the Float Discord, so that you hear as soon as you get selected.
Prizes
Traders will win cash prizes in DAI and NFTs.
The prizes for round 1 of the Arctic Games are:
First place – $2,250.
Second place – $1,000.
Third place – $350.
Fourth to tenth place – $50 each.
Each round in the Arctic Games will increase in scale. More traders. Bigger prizes.
Be the first to explore Float Arctic
Float Arctic lets you mint leveraged tokens in one click, fully on-chain, so you can easily get price exposure to an asset without worrying about liquidations or the complexities of margin trading.
Each Arctic market has a multi-pool architecture, where liquidity from multiple long and short pools are aggregated and trade against each other in a single market.
Each pool of liquidity in Float Arctic exists on either the long or short side of an asset, and represents a different tier of leverage. Users in each market can mint tokens by entering a pool with a leverage tier that suits their strategy and risk appetite.
With one click users can shift from their open position to any other position in the Arctic deployment, to any other asset, market side or leverage tier they choose. Positions in Float Arctic are composable, and can be freely sent between wallets, swapped or composed into any other strategy of the users choosing.
Other leveraged token architectures offer leverage, but within variable ranges. Entries and exits, and movements in the underlying instruments constructing the leverage often mean the actual leverage experienced by the user changes. In most cases (given suffcient float pool liquidity), Arctic's leveraged tokens will have fixed exposure. That means that tokens minted at 3x leverage stay at 3x leverage.
Providing fixed exposure without requiring liquidations or other compromises in user experience is achieved by the introduction of a liquidity tranche called the Float pool.
Float pools are a dynamic type of liquidity pool, with unique characteristics. There is one Float pool per market, but where all other pools are fixed at a certain leverage and market side, Float pools shift between long and short, and have leverage that fluctuates based on the balance of liquidity in that market.
When there is more effective liquidity on one side of a market, the Float pool will flip to the underbalanced side and scale its leverage to offset the shortfall in liquidity. In exchange for assuming the risk of balancing the markets, the Float pool is paid a funding rate by the other pools in the market, which scales with the imbalance in liquidity.
Help us build Float Arctic
We want Float Arctic to provide the best user experience possible. That's where you come in. The Arctic Games are a chance for you to help us build Arctic by testing out the protocol. Trade like an absolute animal. Try to break it. Tell us how to improve it.
When you qualify for the Arctic Games you'll get access to the #arctic-feedback channel in the Float Discord. Use this channel to talk to the core team directly. Tell us what you thought of Arctic and how we can improve it.
Pledge yourself to the games here.
About Float
Float is a DeFi protocol that allows you to mint leveraged tokens, on-chain, with no risk of liquidation.
The latest iteration of Float is called Float Arctic, and is deployed on Mumbai Testnet. To use Float Arctic you must qualify for the Arctic Games – a multi-round trading competition.
Using DeFi is high risk. Trading with leverage is high risk. We do everything we can to protect our users by undergoing rigorous audits, clearly communicating risks and more. However, it is impossible to 100% guarantee the safety of your funds. Before using Float make sure you understand the mechanisms that will affect your position by reading our docs, and the risks involved by reading our risks blog. Do not use any funds that you are not willing to lose.
Get live updates, new features, opportunities and shitposts on our Twitter. Or, meet the team and hang out in our Discord.
Disclosures
Float Arctic is a complex code base of significant size. The team has conducted rigorous tests and the code passed an audit from Sherlock DeFi with no major issues. In spite of this, we cannot guarantee that things won't break. It is entirely possible that during the competition the protocol might malfunction, misperform, crash or similar.
By participating in the Arctic Games you understand that this is a closed competition for learning purposes and you agree to comply with any decisions the team makes regarding the competition that arise due to unforeseen issues with protocol, or for any other reason.